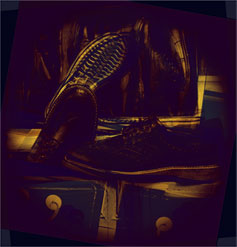 Erusrof began as an idea in 1999 with a vision to create a brand of gorgeous,beautiful and timeless men's footwear. Splendid classic design, with an unique and distinctive feel. The collections are inspired by natural and urban beauty, drawn from a charismatic confident muse, aimed at today's modern teenagers.

At Erusrof we are dedicated to highly skilled craftsmanship,sourcing the best manufactures in the world. Every Erusrof shoe is carefully crafted using the highest quality leathers and an uncompromising approach to production. Our designers and Director has more than 15 years experience in designing and hand making shoes. He Sculpt every style of last painstakingly by hand to bring both comfort and her identifiable styles to every wearer.

The launch of Erusrof shoes into stores in 2011 was met with almost immediate success, selling to some of Shanghai's most prestigious boutiques. The company is expanding very quickly, surrounded and endorsed by top business consultants and creative people in their field.

Erusrof has an international reputation and is sold by premier fashion boutiques all around China. Recently Erusrof had an idea to launch a new resplendent line of women's shoes "Erusrof Lady" a classic range of footwear dedicated to the other half of "Erusrof men", flats and heels, inspired by a masculine look, and confident self expression.